Starting DARE
Five years ago, my team & I had a dream: to vastly improve survival of victims of cardiac arrest. We hope to do this by teaching bystanders community CPR and how to use an AED. We wanted our programme, DARE (Dispatcher-Assisted First REsponder), to be more than an educational curriculum but a social movement. One that would cause a seismic change in knowledge, attitudes and practices, in Singapore and perhaps, Asia.
Last night, I found old photographs of my DARE team, from 2014, 2016 and 2017 and considered how far we've come. From an intangible wisp of an idea to a boldly fleshed out national campaign, mobile app and children's book, all poised to be launched this Saturday, 26th May 2018. https://www.drjadekua.com/2018/06/11/at-the-heart-of-the-matter/
How DARE we take so long?
While we took time to fine-tune our community outreach messages, we also set about imploring the government to install more AEDs in public places. Meanwhile with the SCDF, we actively promoted a rescue app (myResponder). To be honest, despite our efforts in strengthening what Deputy PM Teo Chee Hean coined in 2015 "heartware, hardware & software", a lot of credit has to be given to the community. Singaporeans themselves are more receptive to DARE, having evolved over the past five years.
Today there are three conversations that I think have changed dramatically, namely, our society's views on female leadership, technology and social media.
1. A Growing Respect for Female Leadership: 
She For She
Frankly I'm not sure if this is an evolution or a revolution. I think, perhaps a bit of both. As the (female) director of this unheard of programme, it was difficult to get anyone's attention. I would walk into meetings full of tired old men who'd assume I was the PA to one of my male managers. When I started to speak, their glimmer of curious indignation would glaze over to stark indifference. Literally, I have had doors slammed in my face, phone calls cut off and misogynistic insults hurled at me- some in anger, some in poorly conceived jest. But for the fierce support of my girlfriends, I would have quit years ago.
He For She
There were also a couple of extraordinary male colleagues who continually encouraged me. Compare & contrast these photographs of Dr Lee Khai Pin, Dr Arif Tyebally and myself. See how we have aged together from the Singapore Tatler Leadership Awards in 2013 to the SingHealth Humanity Awards in 2017. Thanks for sticking by me through thick & thin, or rather, thin & thick, to be chronologically correct with respect to our waistlines.
Group Work
Jokes aside, I've really only felt a wave of positive change in the past year in Singapore, thanks to the cumulative good work of the Singapore Council of Women's Organisations and other women activist groups seeking to improve gender equality and female representation at board level. Recently, UN Women Singapore organised a discussion about the gender pay gap as well as the He-For-She Awards which celebrates colleagues & companies which actively promote gender equality in the workspace. Perhaps I should nominate Drs Lee & Tyebally in future. Thank you for allowing me to take the lead in engaging the community to appreciate, value and save lives. http://www.portfoliomagsg.com/article/dr-jade-kua.html
2. Tech me as a Friend, not a Foe: 
Coming from a traditional career which starts with a Greek oath written centuries before Christ and delights in decade-long apprenticeships in order to diagnose Latin-based names of maladies, many doctors hate tech. When patients come armed with an arsenal of instantly Googled diagnoses, you must forgive doctors for feeling ill-disposed towards this web where truth and nonsense are often entangled. Hence when I first suggested that we build a website and an app to educate the community about CPR and AEDs, it was met with derision. Senior doctors told me tech was a waste of time & money; nothing could ever replace the human touch.
Great Savings
I actually agree with the last point; I don't seek to replace the human touch. Giving laypeople free access to information simply saves time and money. This is from the perspective of a person seeking training, as well as that of the victim. Victims of cardiac arrest rely on bystanders for immediate help for survival & neurological function. You could even say the same from the economic perspective of the country. Consider the billions saved in healthcare cost from resuscitation to rehabilitation. Anyway, although we had slowly pushed out a rescue app that allows laypeople to participate in real emergencies ambulances arrive, tech in healthcare really only gained traction recently.
Trendy Tech
All of a sudden, there are start-ups everywhere in Singapore. They push out innovative ideas in biotech, healthtech & medtech with the blessing of the government and the voracious support of venture capitalists and angel investors. I had the pleasure of speaking alongside international leaders in tech at a conference early last year. It was a hotbed of discussion & collaboration. Over the past 2 years, I've been deeply impressed by the verve of the start-ups that I help mentor. Last week, I attended a small group session hosted by Spectrum Global themed "Women of Tomorrow: Insights into Tech & Innovation". What started off with serious discussion about investment outlooks in the field, ended on a really fun note. Of course, I invited everyone to the launch of our new DARE app this Saturday; hopefully I'll see some familiar faces.
3. Social Media: Tagged for Success or Failure? 
Getting funds to run a social media campaign was probably the most difficult we had to canvass for. There's a deep belief that to engage the community, we need traditional ads. I'm referring to those that run in newspapers or on television and at bus-stops. These ads cost millions. Frankly, it's unconscionable in an age when so much can be shared for free. Of course nothing was going to be free forever. With the game-changing media buy algorithms, the social mediascape is shifting again.
Who's Watching?
The other question is a matter of audience. Who uses social media and do their likes actually predict real action? Some years back, it was presumed that social media users were mainly disaffected youth, obsessed with hashtags & flatlays. Now many recognise the value of digital marketing & social media, particularly as print is phasing out. Many magazines of course use both print and digital media to tell their stories. For instance, the CPR photo I've used for this cover image is by the team from Portfolio magazine. They did an excellent print and online version of an interview about DARE. When I interviewed with 938Now DJ Daniel Martin, it was aired on radio. Subsequently, a video of the interview done while we were driving around in an Audi went viral on Facebook.
Meeting Jackie Chan
When we first discussed a possible social media campaign, we thought flash & pizzazz would do the trick. To garner interest, we tried very hard to get hold of mega-star, Jackie Chan. Unfortunately he was so elusive we gave up the entire concept. Instead, we worked on strengthening our messaging, key logos and interviewed real-life heroes. So this Saturday when we launch our national campaign, we'll have more than just gimmicks, we'll have actual curated content.
And so I was out with my kids 2 days ago and guess whom we had the pleasure of meeting?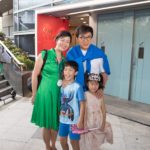 Mr Jackie Chan himself. You can't make this stuff up. Well, Jackie, I don't know if you're here a year too late, a week too early or right on time just for laughs. If you happen to be around on Saturday come to Toa Payoh Hub. You might learn a move or two from my DARE team who dared to dream.