About Cardiac Arrest
Mahna Mahna
I grew up watching The Muppet Show. One of my favourite skits is a song-and-dance with the refrain "Mahna Mahna", that ends with an old muppet philosophising, "The question is, what is a Mahna Mahna?" His buddy cantankerously retorts, "The question is, who cares?" I couldn't help but think about this as I reflected upon DARE. DARE is our community education campaign that teaches laypeople to resuscitate victims of cardiac arrest, launched 2 weeks ago at Toa Payoh HDB Hub. I wondered, who cares enough to be a part of this movement.
My Next Guest Needs No Introduction
Guest of Honor
Our GOH was Mr Amrin Amin, Senior Parliamentary Secretary, Ministry of Health & Ministry of Home Affairs. As he walked around the carnival filled with stalls featuring games that required one to use their hands (in keeping with the concept that one can save a life with just hands) he took time to speak to people present which they clearly appreciated. Onstage, he gave a rousing speech and helped launch the gambit with me so that the device bearing the themes #DareToSaveAHeart, #DareToSaveALife lit up. Finally he sat with children while I read to them from a simple book my team had published.
Celebrities and friends
There were also celebrity appearances so the community could learn CPR from non-doctors and feel encouraged. Adrian Pang taught the crowd CPR onstage with aplomb, keeping the audience entertained with his wit. After touring the CPR station, Benjamin Kheng even ventured to play basketball with some of the children, including mine, to the crowd's great delight.
Personally, it meant a lot to me that many of the guests who bothered to take time off on Saturday were friends. Many had witnessed the five year journey as my team overcame multiple challenges at every juncture. Their support encouraged me to continue to Dare to Dream.
The Office
DARE is currently for adult victims of cardiac arrest
This may come as a surprise to many. My work with the DARE campaign has nothing to do with my day-job at KK Women's and Children's Hospital. One of the reasons is, that DARE emphasises hands-only CPR (without breaking for ventilation) and using an AED. This type of citizen CPR is only suitable for adult victims of cardiac arrest. Adults have enough oxygen in their body to tide through the minutes required for the ambulance to arrive to start ventilation. Therefore, all the layman needs to do is pump the heart to move that oxygen to the brain. It's basic but effective.
Of ventilatory and emotional support
This is different from paediatric resuscitation in which ventilatory support is absolutely essential. Paediatric victims need mouth-to-mouth from the beginning but that requires some training. I hope to cover this module in the next phase of DARE. Nonetheless my paediatrician colleagues came to support me. While some came after excruciatingly long night shifts, others had to forego sleep before evening shifts. Words cannot express how moved I was to see these sweet doctors (L to R, back row Drs Sashi, Edward, Arif, Khai Pin & Gene) and our nurse clinician, Sister Germac (front row) whose support is invaluable.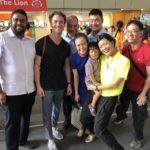 The Kids Are Alright
When children are taught social responsibility, they may be less likely as adults to hesitate to help others. That Singaporean parents cannot envision a life beyond grades and won't bother with active citizenry was something I worried about. So I was delighted to be proven wrong. Classmates from nursery, kindergarten and primary school came with their parents. Together, they had fun at educational booths teaching cool manual skills like balloon sculpting and magic tricks, besides cardiac resuscitation.
Game Of Phones
Why should we learn about cardiac resuscitation?
Beyond the launch event, what now? Well, for everyone else out there, the statistics surrounding cardiac arrest should be alarming enough. Sudden cardiac death is a major cause of mortality in Singapore and the rest of the world. After 4 minutes without oxygen, brain injury begins. For every minute a cardiac arrest victim doesn't receive help, his mortality increases by 10%. Even the fastest ambulance cannot get to the victim before the bystander. Clearly, it makes no sense to wait for the ambulance before starting CPR or using an AED. Yet we know that for every 100 victims who require an AED, fewer than five receive help. Obviously, this doesn't translate to good odds for victims of cardiac arrest.
Why don't we learn about cardiac resuscitation?
Although we've made it easy to by stripping the class down to 45 minutes of bare essentials, it's not enough. Sadly, we've found that many people still may not be able to find the time to attend a hands-on session. In fact, many may not even read our new children's book. Hence we came up with the mobile phone application for DARE. https://www.straitstimes.com/singapore/health/dare-to-save-a-life-with-new-apps-help Notably, it's free to download and widely available on IOS and Google Play. It has simple tutorials to teach technique. There are fun games to socialise the idea that doing CPR for someone is normal even if you're a layman. There is even a link to the emergency helpline for real emergencies and a search function to find the closest AED. With these resources freely available, there really is no reason not to dare to save a life anymore.
The question at the heart of the matter is, who cares?