Don't Forget About Dementia
I am a fan of Pangdemonium.
Before this play about dementia, I had watched several Pangdemonium productions. One of my favourite plays by Joel Tan, Tango, is about same-sex parents. Even their adaptations are excellent. Falling, an honest look at autism in adulthood, made my friends cry. The Pillowman was layered, with many dark themes, like stifling an authentic creative voice.
Their current play is The Father, an uncompromising take on dementia. Almost everyone falls apart as almost everything disappears. The titular character is played by the inimitable Lim Kay Siu. His progressive deterioration of cognitive functions such as concentration, memory and executive abilities doesn't just affect him. It takes its toll on his caregivers, portrayed sensitively by Tan Kheng Hua and Janice Koh.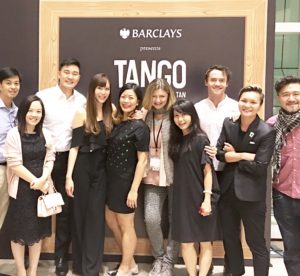 Whom I Watched The Play With
The Father resonated with me because of my Daddy's work with dementia.
Professor Kua Ee Heok has spent a lifetime treating patients with this devastating illness. https://www.straitstimes.com/lifestyle/arts/living-with-hope-will-and-imagination In fact the play meant so much to me that I brought my family to watch it the first weekend.
Then, with The Association of Women Doctors (Singapore), we collectively sponsored a group of 31 medical students to experience this powerful play just days ago. In order to qualify for our complimentary tickets, the students applied by describing their personal encounter with dementia. Subsequently, they wrote about how the play had affected them.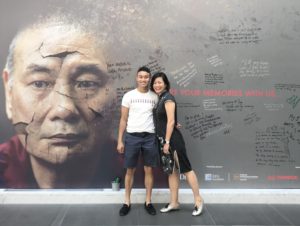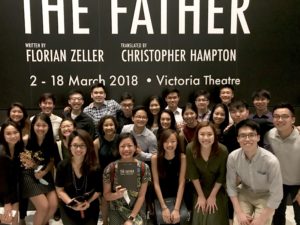 A Dialogue On Dementia
When Pangdemonium invited Daddy to share in the post-show dialogue, I was so proud of this collaboration.
Moderated by director Tracie Pang (standing in photograph below), the panel discussion included Ziyad Bagharib (second from right), whose mother has dementia. Cast members, Lim Kay Siu (middle) & Janice Koh (rightmost) joined in too.
Daddy was asked by a member of the audience what some early signs of dementia were. That gentleman was concerned about constantly forgetting where he had parked his car, which drew laughter from the crowd. I guess we've all been in this situation. Daddy reassured him but agreed that the one of the early signs of dementia was indeed poor short term memory. Hence while the patient may remember the past well, he would forget events that had occurred just the day before. Thus, he might keep misplacing things and accuse others of theft. This was enacted several times in the play. Lim Kay Siu's character would suspect his nurse or son-in-law of taking his watch.
Another member of the audience asked about the phases of dementia, and wondered how accurately dementia was portrayed. Daddy acknowledged that there was a bit of dramatization expected of a staged play to complete its story arc in the given time. However he praised Lim Kay Siu for his portrayal of a previously powerful man struggling with moderate phase dementia. Moderate phase dementia lasts for about three years.
Severe phase dementia lasts also for about three years. Such patients are unable to walk, talk or feed themselves, needing constant care. Complications arising from being bedbound with reduced immunity can lead to death. Currently there is no permanent cure for dementia once it has set in. Medicines merely improve symptoms and co-existing changes such as anxiety and depression. Depression of course, is a huge topic for another discussion on Melancholy & The Infinite Sadness.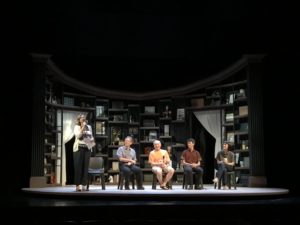 Research On Dementia
Is there any hope?
What is interesting to note is that dementia is a progressive deterioration. The mild phase stretches over six years. There might also be a pre-dementia phase. Here a person may have identifiable risk factors such as diabetes mellitus, hypertension and family history. These two phases are good opportunities to delay the progression or onset of dementia.
There are several studies in Singapore that look into this. One of them is the Jurong Ageing Study, launched in 2013 by Deputy Prime Minister Tharman Shanmugaratnam. A cohort of 1000 elderly people are followed up over 10 years to study dementia, depression and anxiety. Every elderly person had a physical, mental and social assessment including blood and neurophysical tests. MRI brain scans were also carried out for those with mild dementia.
The study looks at psycho-social interventions through group activities coupled with health education. It asks if these can delay or prevent the onset of dementia in the mild and pre-dementia phase, as well as depression. The interventions include mindfulness, art therapy, music reminiscence, gardening and choral singing. Results for these activities look encouraging so far for the elderly in the study group compared to those in the control group.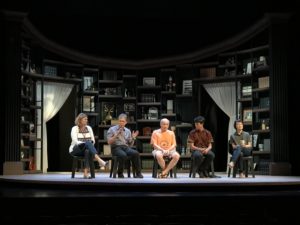 What I love about Daddy's research is its theme: Preventative medicine in the community by the community for the community. 
It resonates with what Ziyad Bagharib shared in the post-show dialogue. He said that dementia isn't an illness that affects just the patient. Dementia affects the community around her. Hence, he was grateful for plays like The Father, to start the conversation in the community and reduce stigma.
He's right. When I hear people discuss the process of ageing, many think about growing physically weaker or unattractive. Their biggest worries are having mobility issues and a tonne of pills to pop. So we think we can brave the twilight years if we exercise, go for youth-preserving treatments and make wise financial decisions today. Society is certainly open about discussing physical health, aesthetic treatments and nest eggs.
For Our Loved Ones
Yet not many people talk about how frightening it can be lose your mind. Consequently few know how stressful it can be for your caregivers. Oddly enough, the more terrifying the topic, the less we want to discuss it. Well, that doesn't make it less real. Let's keep the conversation going, if not for ourselves, for our loved ones.