November Birthstones
So it turns out there are two November birthstones, just like October. For nerds like me, that's double the reason to research and perhaps, twice the fun in shopping.
Citrine
Folklore & Popular Culture
Citrine, French for lemon, is said to be a gift from the sun and occurs in shades of yellow. Back in the day, people said citrine protects against snake venom & evil thoughts. Now the merchant's stone, citrine represents success & prosperity. Folklore aside, this gem has a long history in jewellery. Not just with ancient Greeks & Romans but apparently Scotts in the Victorian era as well.
In fact, I recently attended a lecture by historian Vivienne Becker at Revival Jewels & Objects. It seems citrine was popular in the Retro period of the 1940s. At that time, in the post-Depression age, people had less money. The attractive yellow citrine combined with yellow gold offered more flash for cash. I saw one such vintage ring by Rene Boivin. http://revivaljewels.com/products/retro/a-citrine-and-18k-yellow-gold-ring-by-rene-boivin-circa-1940
Today, it is certainly plentiful in jewellery stores. We saw some at Maison Birk's counter at the recent Jeweluxe exhibition which saw us Discussing Jewellery And Watches Over Happy Hour.
From My Jewellery Box
In my research, I discovered that naturally occurring citrine is actually pretty rare. It turns out most of the citrine on the market is a result of heating amethyst from pale violet to an attractive yellow.
Ametrine is a naturally occurring variety of quartz, from Boliva's Anahi mine. As it is a mixture of amethyst & citrine, you see zones of purple & yellow. I'm enchanted by this stone because it represents both February & November birthstones of my boys, M1 & M4. Hence I bought this ring from La Putri. Registering 7 on the Mohs scale of hardness, with good toughness, it's perfect for rough & tumble gals.
Topaz
Now topaz is even harder, registering 8 on the Mohs scale. It also has a peculiar property called pleochroism, showing different colours from different crystal directions or angles. Blue is the most common colour of topaz. In fact, when I was pregnant with M4, I went to Pomellato and bought a London blue topaz Nudo ring. White topaz is also often used in jewellery, such as my pearl clasp from Carrie K.
However, the valuable colours are red, pink & orange. One such topaz pendant is on the Revival Jewels website. From the Art décor period of modernism, the geometry is beautiful. http://revivaljewels.com/products/pendants/an-art-deco-topaz-and-diamond-pendant-sold?rq=topaz. Recently, I found an imperial topaz at Mouawad. This unheated, 52 carat whiskey-coloured gem is from the Bel Horizonte mines in Minas Gerais, Brazil. Isn't it stunning?
November Babies
Daddy
The November birthstones I buy are in honor of those in my family. One such is my Daddy & hero, Professor Kua Ee Heok. While he was recently honored at the National Day Awards, I love how he's really just an awesome grandpa. The kind that lets a bunch of kids blow out the candles on his birthday cake for instance.
M4
When little M4 turned 8, we celebrated with his classmates. For his previous birthdays, I had hired professional photographers to capture perfect moments. However this year I barely had enough time to organize movie tickets for his friends & their families, let alone book a pro. In fact, the poor boy even baked his own birthday cake using one of his own recipes. I'm glad to report his freestyle cake tasted great.
But I'm even happier about the goofy moments captured on my humble mobile phone. Here's a series of M4 in blue, leaping into the pool with his friends, leaving only M5 in flippers, holding her pose. Ah well, boys will be boys.
Coincidentally, I discovered that Dr Ed, who had accompanied us on the Singhealth Amazing Fun Family Walk actually shares the same birthday as M4. Hence I invited him to join the little party and asked M5 & M6 to look after him. Although I'm sure, it was he who was looking after them.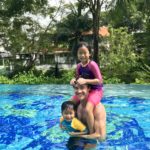 Like citrine which is rare when naturally occurring without treatment, I prefer photos capturing rare candid moments. And like topaz, you should look at them from different angles.
In the same way, I like this photo where I see two happy birthday boys. M4 is surrounded by his father & classmate in the background, with his siblings in the fore. With wild abandon, his granny is laughing uproariously. Although I cannot remember exactly what happened, I know it was a gem of a moment.