Celebrating Old Traditions with Innovation, Design and Technology
Celebrating Mid-Autumn Festival becomes more elaborate every year. For starters, the traditional exchange of mooncakes has been elevated to a whole new level. New flavors mesmerize with a heady blend of champagne, chocolate and crushed petals. Even the gift boxes contain complicated mechanics. Small drawers reveal secret, mirrored contraptions for storing tissue or jewellery.
In contrast to society's soaring standards of mooncake innovation and delivery, are my peerless plummeting personal standards of another Mid-Autumn custom: preparing the children's lanterns. Despite the children's pleas and entreaties, I can never get my act together, resulting in eleventh hour chaos. Fortunately, this year, with help from their grandparents and school-teachers, my kids eventually rustled up some lanterns. I love M6's little dog lantern. He was very pleased to point out he had stuck both ears on the same side. Guess that's as close to lantern innovation as we will get!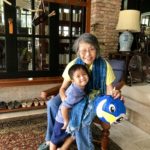 Induction Comitia
Always An Honored Guest
On Saturday afternoon, I was the emcee at the induction ceremony celebrating specialists joining the Academy of Medicine, Singapore. The Guest of Honor was our Senior Parliamentary Secretary for the Ministry of Health and Ministry of Home Affairs, Mr Amrin Amin. We had last met four months ago, when he was GOH at the launch of my DARE app https://www.straitstimes.com/singapore/new-mobile-app-dares-ordinary-singaporeans-to-save-lives-of-cardiac-arrest-victims. Not only did he remember our campaign At The Heart of The Matter, he even reiterated to people around us, the importance of community CPR. Needless to say, I was very thrilled. Here's a photo of me with the affable Mr Amrin Amin and the Master of the College, Dr Sayampanathan.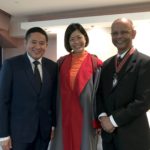 For He's A Jolly Good Fellow
During the ceremony, I found myself onstage with old friends whom I went to junior college and medical school with. Dr Bernard is joining the Academy as a Fellow in orthopedic surgery; Dr Choon Pin, a Fellow in cardiology. Although we don't see one another as often anymore, there is an unbreakable bond, forged by 22 years of growing pains and even more painful exams. No pain, no gain! I was so pleased to be celebrating these jolly good Fellows at their professional milestone.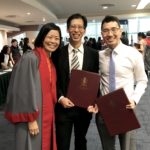 Mama Jade's Cubs
My proud Mama Bear moment came when my two of my supervisees in the children's emergency department took the stage. While Dr Shiela graduated with a diploma in emergency medicine, Dr Jose graduated with a diploma in paediatrics. These experienced doctors have gone to extraordinary lengths to pursue further studies. It certainly isn't easy to study for exams when you're a full time professional, away from family. Well, their families came in full force to support them on this special day. I was glad to be introduced to them and we took many photos celebrating this happy occasion.
A Mid-Autumn Night's Dream
Celebrating Love
That evening, our family and close friends headed to Sentosa where my brother, Tim, was celebrating his wedding. As the sweet sunset ceremony started, handsomely suited-up groomsmen stood in line by the groom. The children and their cousins asked which one the bride was, as a bevy of lovely bridesmaids strolled solemnly down a path of white petals strewn in the garden. Presently when the bride, Sharon, finally appeared, the children knew her instantly, gasping at how gorgeous she was.
Dancing Queen
Later that night, family and friends partied together. Tim & Sharon danced down the aisle in the ballroom to rapturous applause. They were spontaneously joined by M5 and her paediatric gang of merry-makers. I wondered where on earth her got her sass from, as she rocked and rolled (literally) around. At that moment, my mother stood up, dragging my aunt along in a jig of joy. My husband had a good laugh; this is clearly from my side of the family.
Happily Ever After for #TimShaZui
Despite the stress that comes with celebrating a life event, Tim & Sharon laughed easily through their mid-autumn night's dream wedding. My deepest wish for them that they continue to do this when they are old & grey. I would of course, tell him that good humor is key to a good marriage, but I wouldn't want to appear to be too much of a nag. You see, Tim and I are only two years apart but I've always treated him as my baby brother. In my head, this means I am fiercely protective of him and take a keen interest in his affairs. From his perspective, I might come off as a nag and a know-it-all. Regardless, I love him dearly and I know he knows it. Gosh, I guess that does make me a know-it-all!
Welcome to the family, Sharon.