How To Prepare For Night Duty
As a pediatric emergency specialist, my work often involves night duty and odd hours. In my youth, I was able to stay up all day & all night, so that I could carpe diem & noctem as well. Now that I'm old, as evidenced by creaky knees and silver hairs, I need to make some changes. What's my formula to prepare for recurrent night duty?
Do Less But Make It Count
On the day of my night duty, I don't want to hole up at home panicking about what might happen later. And for all of us in critical care, we sure have tales about horrific cases that happen exclusively when manpower is lowest at night. On the other hand, I don't want to tire myself out either. So I select activities that are important to me and do them with people who matter.
For instance, exercise is important to me. As is good food. So let's take my most recent night duty on Saturday as an example.
On Saturday, my buddy Nan came over for brunch & a walk in my neighbourhood. My youngest, M6, joined us and the funny tyke provided lots of entertainment while he was full of energy. Until he wasn't. As expected, midway through our 90 minute adventure, he grew weary and asked to be carried. Well, I considered it power-walking with weights, gathered him up in my arms and took it in stride- literally.
By the time we made it back, we celebrated with a plateful of ngo hiang that my husband had prepared. If you're counting calories, you might have figured out that we probably ate more than we burned, but that's alright. I stretched, got some fresh air and hung out with people who matter, and that counts more than calories.
World Gourmet Summit 2019
After Nan left, I had a disco nap, before hitting the repeat button on my preparation cycle. Essentially, spending time with good friends, powered by good food. What better place to seek out pre night duty nosh than a summit of world gourmets?
V Dining For #WGS2019
That evening, I attended a World Gourmet Summit dinner with my lovely friend, Cheryl. This dinner was hosted at V Dining whose culinary director is Tippling Club's Chef Ryan Clift. As it turns out, Chef Ryan is also the global ambassador for V-Zug, a Swiss high-end appliance brand. Hence the restaurant is conjoined to the V-Zug showroom in Scotts Square. The discreet entrance leads to a passage currently decorated with art by Turkish artist, Coplu, before revealing the counter seats surrounding the open kitchen. Although we weren't able to score counter seats that evening, we were just as happy with the window seats and the chefs came by often to chat.
Chef Lee Jing Peng's Creations
The menu was planned around the host chef preparing snacks & savouries, and the guest chef preparing desserts.
Dinner began with a couple of snacks by Chef Lee Jing Peng: chicken rice roll & pork crackling cone. Both were tasty morsels that were well-presented.
My favourite dish prepared by Chef Lee was scallop noodles with leeks. As Chef explained the story behind this dish, he poured warm pork broth into our bowls. Warm and comforting, it was just what I needed to fortify myself before going for night duty.
The last dish in this category was wagyu beef with burdock root & beef jus. This was flavourful and textured. Although it was scrumptious, I would have traded it in for a second bowl of noodles!
Chef Balazs Enzsol's Creations
This menu was created for dessert lovers as the sweet items outnumbered the savouries, with some of the desserts as substantial as main courses. But the reason is the guest chef on night duty at V Dining is a master of desserts. The charming Chef Balazs Enzsol is a originally from Hungary, worked in France & Austria and now adds Spain to the list. Currently based in Michelin-starred Hoja Santa with Chef Albert Adria, I was sure glad #WGS2019 allowed me to try his creations in my hometown.
The sweet serenade began with a palate cleanser of olive oil mousse & sponge and citrus confit & sorbet. This chilled dessert was fabulous and paved the way for more wondrous delights.
"Is this a mini-magnum?" asked Cheryl cheekily as we stared at the chocolate coated dessert. In fact, the chocolate shell concealed ice-cream with serrano ham & tomato. We looked forward to other secrets.
"Is this a black chicken claw?" I wondered, as I was served the next dish, called The Black Chicken Claw. In fact, it was! A black chicken leg had been sterilised, and its meat stripped off and replaced with layers of rich chocolate. Other than chocolate, the other flavours on the plate included foie gras, Guinness & beetroot. I told Chef that we Chinese are big fans of chicken feet, although we have a penchant for the grandiose and call it phoenix claw. He seemed pretty amused.
Finally we had a granny smith apple dessert which enveloped apple cubes within apple mousse. But the star for that dish for me was the refreshing apple-celery sorbet. The last treat was a yuzu, passion fruit and mango petit four, before I went for my night duty.
Night Duty Comes & Goes
I'll leave tales of what goes on in night duty in critical care for another time, when I've figured out a way around PDPA. Suffice to say, when I left work, my knees were creakier and I discovered one more strand of silver hair.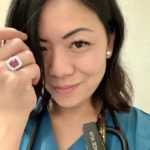 End Of Night Duty
Tamarind Hill For #WorldGourmetSummit
When night duty finished, I left the hospital, blinking in the bright daylight. Working in the emergency room is like working in a casino, where the passage of time and change in weather goes unnoticed. After I did some homework with my kids, I went for a lovely meal at Tamarind Hill, which was hosting Sunday Brunch with the World Gourmet Summit. I brought my son, M4, with me to introduce him to my friends fondly known as my food family. My favourite dish was the Szechuan style "mala" beef shank noodles from Blue Lotus, whose spice penetrated my exhaustion and resuscitated my spirits stat. I also enjoyed the lobster porridge and Yellow Cab beer, both by the 1925 Brewing Co, my big discovery of the day. http://the1925.com.sg/the1925jc/ .
Little M4 enjoyed treats from the host team, Tamarind Hill, teriyaki beef handrolls from All Spice, and a mountain of cheese from http://www.thinkusadairy.org/.
Although I was pretty full, I couldn't help but indulge in an extra couple of morsels of beef rendang & prawns from Morsels. Especially when Chef Petrina offered to peel my prawns for me.
With a bellyful of goodness, I went home for the last bit of nutrition my brain & body needed: sleep.