When we planned to come to Nozawa, I envisioned the kids skiing all day everyday with me. Well, that dream did not pan out. A significant contributing factor to the failure of my plans is the excellent food in Nozawa. We simply spend too much time eating.
Breakfast At Residence Yasushi
For a start, breakfast at Residence Yasushi is a fabulous little affair. Hence when the instructor arrives to walk us to the ski centre, we usher her to our table to join us as we complete our leisurely breakfast. Although her clock starts on time, I have this crazy idea that bonding over breakfast with the kids might help the lesson go more smoothly. And so we chat about skiing as we tuck into traditional Japanese cuisine as well as pastries with jams.
It also helps that the Chef at Residence Yasushi listens carefully to the kids' requests. Despite M3 & M6 having multiple allergies, Chef manages to whip up delectable dishes just for them. On a medically less serious note, he even obliges M4's requests like bacon & eggs plated as a smiley face. These kind gestures make our Journey To Residence Yasushi worthwhile.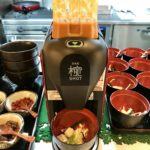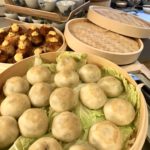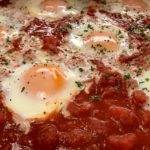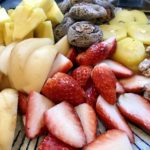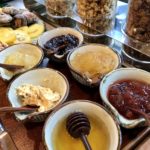 Time Out From Skiing For Lunch
Kubota Shokudō for Soba & Udon
Although we have skis rented all day, we usually return them by midday to enjoy a hot meal. Our favorite lunch venue is a noodle shop called 久保田食堂, at the bottom of the ski park, by the lane that goes under the travellator. M4 is so tired, famished & cold that he asks if he can go into the kitchen to be closer to the steaming pots & pans. The kind lady chefs are delighted to bring him into the kitchen and show him the broths they are preparing. We enjoy fried chicken, pork cutlet with egg, steaming bowls of soba & udon with mugs of hot chocolate.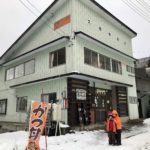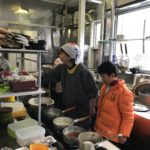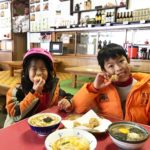 Napa Café For Light Lunch & Cakes
Another great lunch place close to Residence Yasushi is the newly opened Napa Café. We order a variety of international meals prepared with Japanese flair. M4 has a croque monsieur, M5 has a taco meat over rice and I have pork curry with an onsen egg. Dessert is a dense chocolate cake with orange peel which my mother-in-law likes very much.
Nozawa Ice-Cream Everywhere
Theoretically we could return to grab our ski gear after lunch for more skiing. But Nozawa ice-cream calls out to us everyday from different cafes and we respond every single time. Is it the water or milk in Nozawa that makes all the difference? I don't know. Let me know if you find out.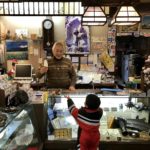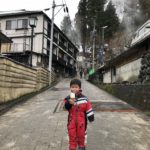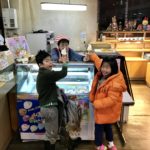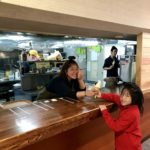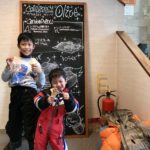 Dinner In Nozawa
Wagyu-Tei For Syabu-Syabu
And of course we could continue skiing after ice-cream but then it's time to organize ourselves for dinner. One of the loveliest diners we visit is Wagyu-Tei where they serve both sukiyaki and syabu-syabu. The tofu & shrimp in gelatin starters have interesting textures which I love. Meanwhile the kids who were falling asleep now wake up to devour the beef. In fact we scramble to order more for these ravenous kids. Little M6 is so pleased to be swishing beef & chucking vegetables in the pot he keeps squeaking, "Look Mama! I can cook!"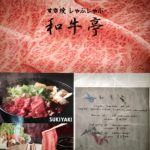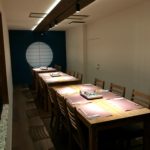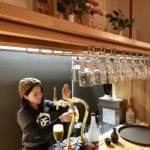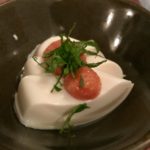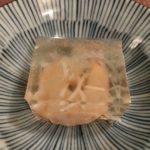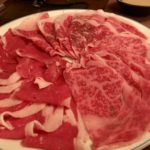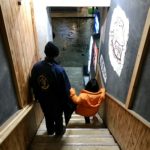 Shinko-Q For Miyuki Pork
Another super dinner place is a tiny restaurant called Shinko-Q, Mom's Organic Kitchen. There is a plethora of organic salads but carnivores like M5 will be relieved to know there're many meat dishes too. We enjoy piping hot fried chicken & tasty beef in hot pans. The piece de resistance is the Miyuki pork which is disappears into our bellies before I can take a photo of it.
Shinko-Q's drinks menu features heat-treated raw wine & highballs. The latter is a potent mix of organic raw lemon, luxury whisky finished in Mizunara's barrels & Nozawa hydrogen water. My mother-in-law sips organic southern plum wine while I chug Japanese draft beer. I would claim skiing being thirsty work as my excuse except I didn't do much of that as you know.
Nozawa Dreaming
But perhaps, that's what dream ski adventures are in fact like. Moments before and after skiing, scurrying around for good food. As I scroll through the photos of the trip, I see M6 feeding granny while M4 twins with his smiley-faced breakfast. On the next table, M3 & M5 bond over breakfast, a rare privilege for M5 as her sister is in boarding school. A funny photo of M6 attacking an ice-cream the size of his face makes me giggle. I see M5's face glowing with happiness when the owners of Shinko-Q offer her toys at the end of the meal. Her unbridled joy reflects theirs too. Now these memories are surely the stuff dreams are made of.