PROLOGUE:
An Unexpected Letter From A Teenager About My Weekend
I received an interesting email about my weekend. This was from a teenager whom I had never met before. She wanted to know what it was like to be a doctor with a family. She worried about what life would be like beyond medical school where studying is focused, specifically in her pursuit of a specialist degree which would entail years more of post-graduate exams but this time, while working full-time and possibly, trying to find a life partner and build a family. Aside from that, she wondered if life as she knew it was over, and that in committing her life to professionalism and family, that she would lose herself, and have "no more weekend ever".
Residential Woes About Their Weekend
These same concerns are often brought up by my young residents. The Children's Emergency is after all, a 24/7 department and we all bear the burden in shifts, including senior doctors. They ask wearily, if it ever gets better, and if they'll "ever have weekends again". I'm struck by the significance the weekend holds for these younglings, probably because I've been working through holidays for so long that they are no longer hallowed. Looking back on my social media, these are photos I took with my colleagues on Christmas Day, New Year's Day and my birthday, all of which I spent at work.
THE END OF THE FUN WEEKEND:
Not to be mistaken for TEOTFW, also about disenchantment with reality.
Since these concerns are real we probably should take time to acknowledge them and address why the weekend is so important to younglings.
Maybe it's a surrogate for me-time. We've been brought up in a society that's structured to run on office hours. Tradition dictates that the weekend is for partying or relaxing. When the weekend gets eaten up by overrun projects or unconventional jobs, the perception is that there is no time for oneself at all. But if me-time is important, and it is truly, one can surely find moments to meditate, pray, exercise or read a book another time.
I've personally found that incorporating mindfulness and simple breathing exercises helps me prep before a shift. Mere minutes of uninterrupted pause does wonders. I would encourage you to try it if you can. It doesn't make you a new age weirdo (in case you're hung up on labels and perceptions). It just makes you more intentional about how you choose to spend those extra minutes, which don't have to fall on a weekend. Unless, oh disenchanted one, you feel entitled to your weekend. Then emergency medicine is not for you.
Maybe it's because the scene is more fabulous on a weekend night that social interaction is more enhanced. Well, it's difficult to find a substitute and I don't want to over analyse this but shift work isn't 24 hours all weekend either. There may be some sacrifices, but you can definitely fit something in once in awhile. You don't have to worry about living in isolation. I'll keep it real and share what I actually did this weekend shall I?
FRIDAY 20th APRIL:
Food, facts & fashion.
Theoretically my Friday started in the Children's Emergency as I handed a shift over to my colleague a little after midnight. We had been tied up with a large number of procedures including wound closures and managing fracture-dislocations so it really was quite a tough shift to hand over and simply leave on time. After that I reviewed some slides for a trauma conference I was attending later that day. The Singapore Trauma & Acute Care Conference committee had reached out for me to organise and chair the track of paediatric emergency so I just needed to tie up some loose ends.
Food
Hours later, I ducked into Tiong Bahru Bakery in the basement of Raffles City where the conference was being held, for a simple brunch of coffee and eggs. Instead, due to the wizardry of Cynthia Chua and her team of chefs and baristas, what I actually got was a beautiful swan swirled into the foam of my mocha and a hearty fry-up. There's an optimistic analogy somewhere in that brunch for expectation, intervention and reality. However I was too tired & nervous to articulate it.
Facts
As it turns out, with smooth IT transitions and good event management, everything went according to plan.
First, Dr Gene Ong gave an erudite lecture on paediatric airway management in trauma. He debunked some common myths like whether all comatose patients need a crash intubation. Residents, the answer is no, because that would drive up the intracranial pressure. Hence RSI is more appropriate method for severe traumatic brain injuries.
Then, Dr Chong Shu-Ling shared the local and international experience in the role of CT scans in children. She emphasised that children have developing cells and a lifetime ahead of them. Hence any potential cancerous transformation due to the ionising radiation from scans have a greater potential to manifest.
Paediatric surgeon, Dr Chiang Li-Wei, shared some tips and pitfalls on resuscitation. In particular, he discussed hacks for the challenge of finding appropriately sized equipment for very small babies. The audience paid attention, was engaged and gave good feedback. Our paediatric emergency track was a success! Check out my relieved grin as I hold my name out proudly. Of course it was taken just at the moment a call for reporting suspicious persons was made. Ah, the comedy that is my life.
Fashion
After the conference I went home to pick M5 up to attend a Giorgio Armani fashion show with me. Models floated through the store dressed in the Spring/Summer 2018 collection, followed by a short presentation on style tips by veteran Keith Png. Then the whisky bar bearing 12 to 18 year old vintages was thrown open to anyone who welcomed the weekend (perhaps I should've invited my residents). I stayed with M5 who had a good time picking out the perfect pair of black & pink pumps. Please note that she was supervised by the friendly retail specialists. No clothes, shoes or humans were hurt during the making of this montage.
SATURDAY 21st APRIL:
Ambulances everywhere.
Play
My husband and I took M6 out for lunch at a mall. There, we came upon a series of toy cars that light up with coins. Being frugal, I hardly chuck money into these contraptions. Hence M6 always sits in stationary toy ambulances, singing "bee-boh, bee-boh" on his imaginary rescue missions. On this occasion, his generous father couldn't bear it after M6 innocently bee-bohed for 20 minutes with this deceitful mother cheering him on. He chucked coins into the ambulance. As the lights and sirens came on along with discordant music, the machine lurched forward and back. Our littlest child's face shone.
Work
After lunch they sent me to the hospital where we had many patients brought in by real bee-boh bee-bohs. Patients with febrile seizures and breathing difficulty came in this way. Others had interesting wounds that my residents were thrilled to manage under supervision. No photos for this day other than the one capturing M6's moment of delight.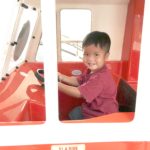 SUNDAY 22nd APRIL:
Curiosity, variety and other shiok spices of life.
Curiosity
I was so tired in the morning that I hollered at M4 for waking me with his ruckus. Immediately, I regretted it as he burst into tears. He gets very excited about things so when he shares his thoughts out aloud, they sure are loud. We hugged and made up. Then I presented the kids with a parcel from http://www.curiouskits.com . This was filled with experiments about light.
M4 chose the kit containing elements of a box camera. Initially, M5 made a beeline for the prisms and lenses. As it was too cloudy to conduct her experiment about light refraction, she decided to played dress-up with confetti from the package instead. M6 joined in. Cue squeals of delight and more chaotic yelling but this time I didn't holler. A bit of chaos is not a bad thing.
Peranakan Buffet
Sunday dinner was an indulgent #kuehntessentiallyperanakan affair. I hardly ever do buffet dinners. Yet there is no better way to sample the complex flavours of Peranakan cuisine. This is especially when it's curated by Chef Shermay Lee, whose grandmother's cookbook is well-referenced in our home. I love the leftmost photo of M1 & me with two incredible chefs- my husband & Chef Shermay- who tell such good stories about culture and family through their cooking, and our gracious hosts, Gary & Beverly.
Variety
We enjoyed the generous array of cold dishes which included Sambal Bendi and Spicy Petai & Prawns. With a giggle, I noticed how the Ayam Buah Keluak started out pretty well-balanced in the buffet tray. Gradually the black gold would be depleted by discerning diners leaving only chicken. Not for long though, as the hotel staff would quickly restore harmony back to the dish. This reminds me of that scene in You've Got Mail where Meg Ryan's character chastises Tom Hanks' character for scooping all the caviar garnish up. Do you remember it?
Spices
What I loved most about the dishes were the condiments & sauces that accompanied the fish, chicken and kueh pie tee. Whenever a choice was presented for original cilicuka, very hot cilicuka or very very hot cilicuka, you can guess which I went for. My husband admonished me for being foolishly brave but truly, that was some shiok spice.
Life Is Like A…
And so that's how my weekend ended. I don't know if students or residents will be put off by the chaos that is the weekend. But this is my reality. Like a Peranakan cuisine, my weekend had simple elements & complex flavours. It was difficult to prepare given the different possible strategies. With a generous dose of love, mindfulness and courage, it was amazing.